Dear colleague,
Welcome to the latest update from PCSE. As of 4 October 2016, I have taken on the role of Managing Director of PCSE and I look forward to working with my colleagues and NHS England to improve the support we provide to you.
I recognise that recent months have been challenging as services transfer from local offices to the new sites, and as we work through the early stages of our change programme. Thank you for the patience you have shown over this period. There have been many learnings and we are making changes. There is much more to do and we want to assure you that we are absolutely committed to providing an efficient and effective support service to you and your practice.
I have worked closely with many practices and local primary care organisations in the past, and I understand the frustrations and the impact when things don't work as needed. As a priority I will be spending time in practices understanding issues and ensuring you get the services you expect. An enormous amount of activity is underway to make sure the required improvements are made. We will continue to keep you regularly informed of progress through these updates and through your

local NET representatives.
Best wishes
Simon England
Managing Director, Primary Care Support Services
In this bulletin you will find an update on:
Planned changes to some CitySprint routes

Updated supplies returns process

Ophthalmic payments

Performers list

Getting in touch
Planned changes to some CitySprint routes
There will be changes to some of the CitySprint PCSE supplies delivery routes from 31 October 2016.
If there is a change to your delivery day, or if you will move from a morning to an afternoon slot on vice versa, we will let you know by email this week.
Emails will be sent to the Main Contact we hold for each practice. Please look out for these emails so you are able to brief your staff and avoid any unexpected deliveries.
These route changes will help address the issues that some practices have experienced due to them being closed when deliveries take place. We will also considerably reduce the number of practices visited on some routes to ensure that all practices receive a regular weekly supplies delivery service.
The route changes will affect the day on which around 30% of practices are visited from 31 October.
All practices will notice a change to the route number and stop ID printed on the tracking labels attached to the supplies boxes delivered to your practice. The example below highlights the information that will change. You do not need to do anything.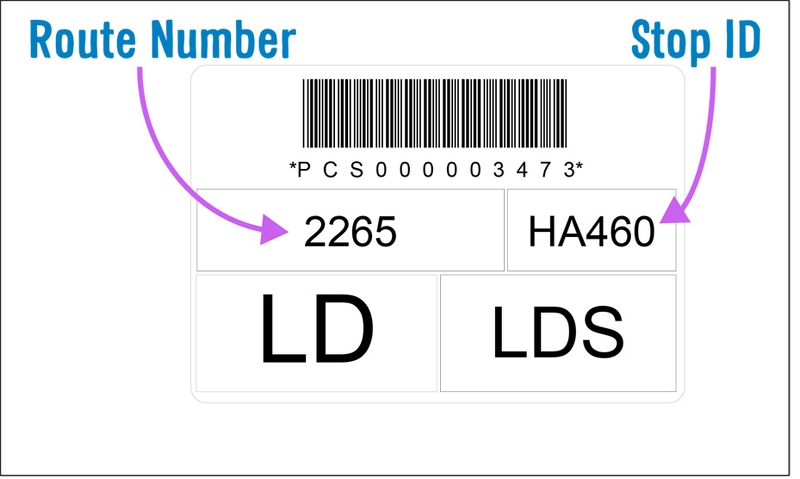 Updated supplies returns process
If for any reason you need to return items, this can be managed by clicking on the Returns link in the PCSE portal.
Previously, there was only the option to return either unopened needles and syringes or prescription pads. This week, we've introduced an additional category 'other' in the 'returns type' drop down section in the portal, so other types of items can be returned.
Once you submit the request for a return, CitySprint will arrange for the collection on one of your regular delivery days. You don't have to do anything else once the items have been collected.